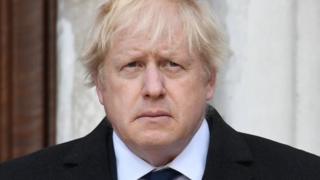 Boris Johnson has said the "grim reality" is that "some people can't be rehabilitated" in prison.
The PM called for longer sentences and an end to automatic release after convicted terrorist Usman Khan killed two people on London Bridge on Friday.
The father of Jack Merritt, one of the victims, says he would not wish his son's death "to be used as the pretext for more draconian sentences".
Labour have accused Mr Johnson of using the attack for political ends.
And in an article for the Guardian, Mr Merritt's father Dave said his son "would be livid his death has been used to further an agenda of hate".
"What Jack would want from this is for all of us to walk through the door he has booted down, in his black Doc Martens," he wrote.
"That door opens up a world where we do not lock up and throw away the key. Where we do not give indeterminate sentences, or convict people on joint enterprise.
"Where we do not slash prison budgets, and where we focus on rehabilitation not revenge."
Mr Johnson denied claims he was politicising the attack, saying he had campaigned against early release for some time, having previously raised the issue during his 2012 campaign to be mayor of London.
"I feel, as everybody does, a huge amount of sympathy for the loss of Jack Merritt's family, and indeed for all the relatives of Jack and Saskia, who perished at London Bridge," he said.
"But be in no doubt, I've campaigned against early release and against short sentences for many years."
'Tough to crack'
He said he has a bill "ready to go" in the Queen's Speech, if his party were elected to power on 12 December, to stop automatic early release for serious and violent offenders.
"We have too many people who are released automatically onto our streets and we need to address that," he said.
The Conservative Party leader said Khan should not have qualified for automatic early release from prison after he was jailed in 2012 over a plot to bomb the London Stock Exchange.
Asked about the fact that Khan was not deradicalised in prison, under the watch of the Conservatives, Mr Johnson replied: "When we look at the problems that we come across in trying to deradicalise people, we have to face the grim reality that in some case it really is very difficult and I think this was one of those cases."
He said Khan's case showed "some people can't be rehabilitated".
"Unquestionably there are some cases to tough to crack and alas he was one of them," Mr Johnson said.
The prime minister said on Sunday that 74 people jailed for terror offences and released early will have their licence conditions reviewed.
Mr Merritt, 25, and Saskia Jones, 23, were honoured at vigils in London and Cambridge on Monday.
'System under stress'
Khan was given a special jail term known as Imprisonment for Public Protection (IPP), which meant he would serve at least eight years and could not be released unless he had convinced the Parole Board he was no longer a threat.
But in 2013, the Court of Appeal replaced the sentence with a 16-year-fixed term of which Khan should serve half in prison.
He was released on licence in December 2018 – subject to an "extensive list of licence conditions", police said.
Khan was shot dead by police on London Bridge on Friday.
No-one sentenced to a terrorism offence is now subject to automatic early release under current laws.
Former justice minister Philip Lee, who defected from the Conservatives to the Liberal Democrats over Brexit, criticised his former party's record on prisons,
He said the London Bridge attack highlighted "a system that was under stress" and one in need of "proper funding and proper reform".
'Jihadi virus'
He added that the criminal justice system "had to bear the brunt of quite significant cuts to its funding" and during his time as justice minister he "never really felt it was a priority in government to fund justice, because it doesn't tend to be a vote winner".
"It only becomes a vote loser when things start to go wrong, or when people think mistake have been made and that's what happened in this particular case," he said.
"The prime minister is notorious for being loose with the truth. And now he's waded in to something incredibly complex, and starts talking about we need to 'bang them up' for longer.
"That might play well in some simplistic way, but you need to address capacity of the prison places. You do that by the police, prisons and probation all working together.
In an ITV election debate on Sunday, Labour's shadow justice secretary Richard Burgon said he was "very uncomfortable with the way the discussion from the Conservatives moves straight from a tragedy to reheating pre-packaged political lines smearing the Labour Party".
He added: "I think our democracy, regardless of our parties, should be better than that".
But Brexit Party leader Nigel Farage said: "I think these people should never ever be let out prison unless we are absolutely convinced they do not have the jihadi virus. But political correctness stops us from doing that."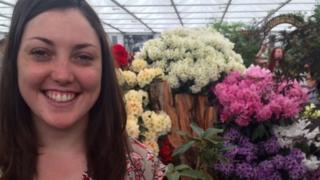 A young woman was killed in the London Bridge attack after she ran to the aid of another victim, telling her friends, "I'm a nurse, I have to go and help", an inquest has heard.
Kirsty Boden, 28, was stabbed in the head as she knelt over restaurant waiter Alexandre Pigeard as he lay dying, the Old Bailey heard.
Footage of her being set upon was shown at the inquest into the deaths of those killed in the London Bridge attack.
Eight people died on 3 June 2017.
Australian Ms Boden, dubbed the "angel of London Bridge", had been out for a meal with two friends when she heard the three attackers' van crash into the railings above and debris falling onto the outside tables.
Gareth Patterson QC, the lawyer for her family, said Ms Boden got up within seconds of the crash.
The off-duty nurse, who worked at Guy's Hospital, was thinking of others rather than her own safety, he said.
A statement from Ms Boden's friend, Melanie Schroeder – one of the friends she was dining with – was read out to the jury on Friday.
Ms Schroeder, who had previously asked Ms Boden to be her bridesmaid at her wedding, said: "Kirsty jumped up and said, 'I'm a nurse. I have to go and help. I need to see if they need help'.
"Kirsty headed off and I thought nothing of it," she said.
Ms Schroeder said she then remembered hearing screaming and thinking people should calm down because it was "just a crash".
The friends fled the restaurant with the other diners, and when they returned Ms Schroeder said she saw Ms Boden's body on the ground, which she recognised "because of her bright pink cardigan".
Ms Boden, who had suffered stab wounds, was alive but unable to speak, Ms Schroeder said.
Ms Schroeder and a GP tried to revive her friend, while Ms Mooney attempted to find emergency medical help, but Ms Boden died at their side.
---
Courtroom in awe at selflessness
BBC reporter Hanna Yusuf, at the inquest
Dreams, hopes and friendships were terminated on the night Australian nurse Kirsty Boden lost her life.
The courtroom watched in awe as footage of a selfless Ms Boden getting up from her dinner with friends – to help victims after hearing a crash – was played.
The clips illustrated a night that violently broke up the friendship trio of Ms Boden, Melanie Schroeder and Harriet Mooney.
In statements read aloud, Ms Schroeder and Ms Mooney emotively described the night during which they saw their friend die.
The desperation in their attempts to save the life of their friend, who was supposed to be Ms Schroeder's bridesmaid, was palpable.
There was a collective shudder as the court watched the moment Khuram Butt made a stabbing motion at a faint figure identified as Ms Boden.
The court was reminded that the breakdown of moments that seemed lifelong, and were life-changing, happened over a matter of seconds in real time.
---
The inquest heard how Ms Boden was set upon by all three attackers – Khuram Butt, Rachid Redouane and Youssef Zaghba.
The three had crashed their car on London Bridge before running through Borough Market.
They were shot dead near the market around 10 minutes after their attack began.
Lawyer Mr Patterson said the tip of a knife carried by attacker Butt, 27, was later found embedded in Ms Boden's head.
The jury heard an account from witness Alexandre Colou, who said he saw the moment Ms Boden fell as crowds of people fled the attackers.
"Her eyes were moving wildly," he said. "She had difficulties breathing. I was talking to her and then her eyes stopped moving.
"I said 'stay awake, stay awake, stay with me'."
---
The stories emerging from the inquest
---
The inquest also heard from British Transport Police constable, Wayne Marques, who previously spoke to the BBC about being the first officer to confront all three of the attackers.
At the inquest, PC Marques told of how he had been on patrol, armed with only a baton, when he ran to the aid of Marie Bondeville, her boyfriend Oliver Dowling, and Richard Livett.
He said he was initially alerted by a woman's scream and people running up and down Borough High Street.
As he went to investigate, he told the court he was approached by a man running, before finding Richard Livet lying in a pool of blood.
He then noticed a man grabbing Ms Bondeville and told the court how the attacker appeared to punch her three or four times, before she fell to the floor, face down.
PC Marques then described the moment he saw Mr Dowling being stabbed in the neck.
He said: "I got my baton out and charged the first attacker… my intention was to hit him as hard as I could with all my weight behind me with everything I had. I knew he was trying to kill the man on the floor."
PC Marques said as the first attacker began to "crumble" the officer felt an "almighty blow" to his head – which impaired his vision.
He said: "At this point I saw a knife coming towards me. Through instinctive reaction I defended myself."
The officer said "a messy fight" ensued with the second attacker, before the third ran over.
Although PC Marques was stabbed multiple times, he said: "My job at that stage was to hold on and keep them fighting until the cavalry arrived."
Evidence has so far been heard in relation to six of the victims: Xavier Thomas, Chrissy Archibald, Sara Zelenak, Sebastien Belanger, James McMullan and Alexandre Pigeard.