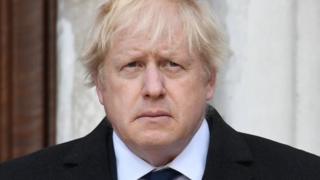 Boris Johnson has said the "grim reality" is that "some people can't be rehabilitated" in prison.
The PM called for longer sentences and an end to automatic release after convicted terrorist Usman Khan killed two people on London Bridge on Friday.
The father of Jack Merritt, one of the victims, says he would not wish his son's death "to be used as the pretext for more draconian sentences".
Labour have accused Mr Johnson of using the attack for political ends.
And in an article for the Guardian, Mr Merritt's father Dave said his son "would be livid his death has been used to further an agenda of hate".
"What Jack would want from this is for all of us to walk through the door he has booted down, in his black Doc Martens," he wrote.
"That door opens up a world where we do not lock up and throw away the key. Where we do not give indeterminate sentences, or convict people on joint enterprise.
"Where we do not slash prison budgets, and where we focus on rehabilitation not revenge."
Mr Johnson denied claims he was politicising the attack, saying he had campaigned against early release for some time, having previously raised the issue during his 2012 campaign to be mayor of London.
"I feel, as everybody does, a huge amount of sympathy for the loss of Jack Merritt's family, and indeed for all the relatives of Jack and Saskia, who perished at London Bridge," he said.
"But be in no doubt, I've campaigned against early release and against short sentences for many years."
'Tough to crack'
He said he has a bill "ready to go" in the Queen's Speech, if his party were elected to power on 12 December, to stop automatic early release for serious and violent offenders.
"We have too many people who are released automatically onto our streets and we need to address that," he said.
The Conservative Party leader said Khan should not have qualified for automatic early release from prison after he was jailed in 2012 over a plot to bomb the London Stock Exchange.
Asked about the fact that Khan was not deradicalised in prison, under the watch of the Conservatives, Mr Johnson replied: "When we look at the problems that we come across in trying to deradicalise people, we have to face the grim reality that in some case it really is very difficult and I think this was one of those cases."
He said Khan's case showed "some people can't be rehabilitated".
"Unquestionably there are some cases to tough to crack and alas he was one of them," Mr Johnson said.
The prime minister said on Sunday that 74 people jailed for terror offences and released early will have their licence conditions reviewed.
Mr Merritt, 25, and Saskia Jones, 23, were honoured at vigils in London and Cambridge on Monday.
'System under stress'
Khan was given a special jail term known as Imprisonment for Public Protection (IPP), which meant he would serve at least eight years and could not be released unless he had convinced the Parole Board he was no longer a threat.
But in 2013, the Court of Appeal replaced the sentence with a 16-year-fixed term of which Khan should serve half in prison.
He was released on licence in December 2018 – subject to an "extensive list of licence conditions", police said.
Khan was shot dead by police on London Bridge on Friday.
No-one sentenced to a terrorism offence is now subject to automatic early release under current laws.
Former justice minister Philip Lee, who defected from the Conservatives to the Liberal Democrats over Brexit, criticised his former party's record on prisons,
He said the London Bridge attack highlighted "a system that was under stress" and one in need of "proper funding and proper reform".
'Jihadi virus'
He added that the criminal justice system "had to bear the brunt of quite significant cuts to its funding" and during his time as justice minister he "never really felt it was a priority in government to fund justice, because it doesn't tend to be a vote winner".
"It only becomes a vote loser when things start to go wrong, or when people think mistake have been made and that's what happened in this particular case," he said.
"The prime minister is notorious for being loose with the truth. And now he's waded in to something incredibly complex, and starts talking about we need to 'bang them up' for longer.
"That might play well in some simplistic way, but you need to address capacity of the prison places. You do that by the police, prisons and probation all working together.
In an ITV election debate on Sunday, Labour's shadow justice secretary Richard Burgon said he was "very uncomfortable with the way the discussion from the Conservatives moves straight from a tragedy to reheating pre-packaged political lines smearing the Labour Party".
He added: "I think our democracy, regardless of our parties, should be better than that".
But Brexit Party leader Nigel Farage said: "I think these people should never ever be let out prison unless we are absolutely convinced they do not have the jihadi virus. But political correctness stops us from doing that."
Boris Johnson has refused to answer questions about reports of a row between him and his partner in which police were called.
Speaking at a Tory Party hustings in Birmingham, Mr Johnson said people did not "want to hear" about the reported row between him and Carrie Symonds.
The Guardian had said Ms Symonds was heard telling the Tory MP to "get off me" and "get out of my flat".
Police said they spoke to all occupants of the address, who were safe and well.
In the first of 16 hustings events, Mr Johnson and Jeremy Hunt made their pitches to an audience of party members to succeed Theresa May as prime minister.
Mr Johnson was asked about the incident a number of times by hustings moderator Iain Dale, an LBC radio presenter, but each time avoided answering the question.
After being accused by Mr Dale of ducking the question, Mr Johnson did not respond directly, instead saying: "People are entitled to ask me what I want to do for the country."
Mr Dale pressed again, telling Mr Johnson: "If the police are called to your home it makes it everyone's business.
"You are running for the office of not just Conservative Party leader, but prime minister, so a lot of people who admire your politics do call into question your character, and it is incumbent on you to answer that question."
In response, Mr Johnson accepted this was "a fair point" and said he "was a man who keeps to political promises".
Pressed another two times on the issue, Mr Johnson said it was "pretty obvious from the foregoing" he would not be making further comments on the incident.
Mr Dale was jeered by members of the audience at one point during the exchange, but Mr Johnson responded by telling the crowd "not to boo the great man".
The report of the row between Mr Johnson and Ms Symonds in the Guardian said a neighbour had told the newspaper they heard a woman screaming followed by "slamming and banging" in the early hours of Friday.
It said that in the recording – heard by the Guardian, but not by the BBC – Mr Johnson was refusing to leave the flat and telling the woman to "get off" his laptop before there was a loud crashing noise.
Ms Symonds is reported to be heard saying that the MP had ruined a sofa with red wine, adding: "You just don't care for anything because you're spoilt. You have no care for money or anything."
'Important public interest'
The neighbour who made the recording has since come forward to explain his reasons for contacting the Guardian about the row.
Tom Penn, 29, said he and his wife had concerns for their neighbour's safety.
He told the paper: "Once clear that no one was harmed, I contacted the Guardian, as I felt it was of important public interest.
"I believe it is reasonable for someone who is likely to become our next prime minister to be held accountable for all of their words, actions and behaviours.
"I, along with a lot of my neighbours all across London, voted to remain within the EU. That is the extent of my involvement in politics."
Mr Johnson's relationship with Ms Symonds – a former director of communications for the Conservative party – became public after Mr Johnson and his wife, Marina Wheeler, announced they were divorcing in 2018.
Ms Symonds was seen in the audience during Mr Johnson's leadership campaign launch on 12 June.
Analysis
By BBC News political correspondent Jonathan Blake
Nobody can say that Conservative Party members don't have a choice.
The contrast between the two candidates to be their new leader and the UK's next prime minister was clear to see on stage in Birmingham.
Both men gave performances which reaffirmed their strengths and weaknesses as politicians.
Boris Johnson delivered soaring rhetoric, swerved the specifics and worked the room with cheeky asides and shameless flattery.
Jeremy Hunt stressed his serious side, played it straight and gave carefully considered answers.
Mr Johnson looked a little uncomfortable at times, asking at one point "how much longer have we got?"
Mr Hunt seemed keen to convey a softer side – his best friend coming out on the last day of school was one of many anecdotes.
Supporters of each will have likely left the event further convinced that their favourite is the man for the job – and those yet to decide have some food for thought.
One down, 15 to go.
bed bug exterminator blackheath